White Heather enjoyed another successful day at Bundanoon. Although wet and muddy the White Heather crew had a thoroughly enjoyable time wellies and all.
Numbers were down due to the inclement weather although the spirit of the day was not  dampened.
A big thank you to Mr & Mrs Taylor from Canberra who generously shared their umbrella whilst we waited in our annual potato and sour cream lunchtime line up.
The best part of a gathering is the folk you meet and the new friends you make.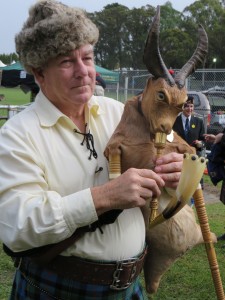 Fellow stall holder and friend Bill Hart D. Urr, of Iona Bagpipes.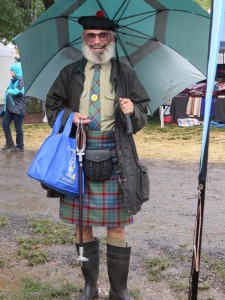 You can't dampen a Scotsmans spirit. Bob Miles enjoying the day.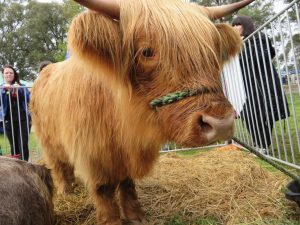 Gorgeous Coo Exhibited by the N.S.W. Highland Breeders, From Scotland.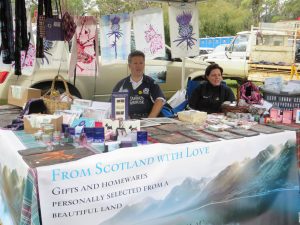 New friends and fellow stall holder "From Scotland With Love"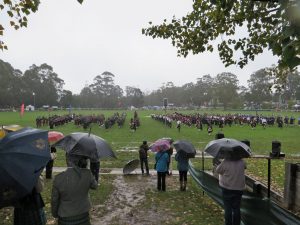 A wet conclusion to the day, the massed bands.
Maintenance Workshop
On the 15th of March, White Heather Highland Supplies hosted a bagpipe maintenance workshop conducted by independent solo piper Dennis Browning together with Michael Phee of MacPhee Bagpipes.
Over thirty people took part in the free workshop where they were treated to a full morning of maintenance as well as mateship.
Michael Phee commenced with an overview of the making of pipes, from a piece of blackwood through to completed sticks.
Followed by Dennis Browning who spoke on everything from hemping joints, bag selection, water traps to playing conditions, tuning techniques and body stance.
Much was learnt and gained from this event, which was born out of a desire to share the spirit of playing the great highland bagpipe. A sausage sizzle completed the day with much banter and camaraderie.
Both Dennis and Michael agreed that the best maintenance advice they could possible offer is "play them".