Andante Tenor Drum Series
We can supply Andante's full range on request. Please contact us for prices and availability.
Description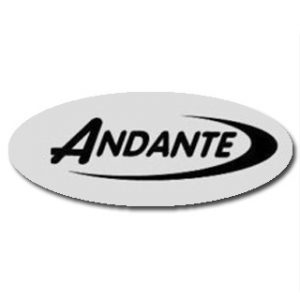 Andante Percussion was formally established by Sam and Frank Hodgen in November 1986. The inspiration for the business came about when the pipe band Sam was Pipe Major of where having extreme problems with their drums as the structure of the drums were not strong enough to cope with the new woven Kevlar top playing head. Sam then looked at what was available on the market and found nothing with any improvement over what the band were already working with. As Sam has spent twenty years in engineering and design he then brought this to bear on the designing and manufacturing of a new drum.
Andantes intentions for the future is to continuously explore and advance the Percussion Instruments for Marching Bands.
Features.
Tuning: There are 14 tension screws on each head.  This makes it easier to achieve even tension throughout the entire surface of the head.  Damping fitted and tuned by a meter.
Andante Tenor drums are designed to produce a sound that is in harmony with the drone section of the bagpipe, balancing the overall sound of the band thus enchancing the ensemble.
3 Years Warranty: Rigorous quality control checks at each stage of production ensures the continuity of excellence and reliability.Contact us for colour choices.
Comes with carry case.
Range of Tenor Drums…
MODEL                 HEAD SIZE               DRUM LENGTH               WEIGHT
  300                            16″                               12″                        8.5lb/3.86kg
  301                            16″                               14″                         9lb/4.09kg
  302                            16″                               16″                        9.5lb/4.31kg
  303                            18″                               14″                        10.1lb/4.5kg
  304                            15″                               14″                        8lb/3.62kg